Celebrating 25 Years of PLA with Executive Director Anita Santos-Singh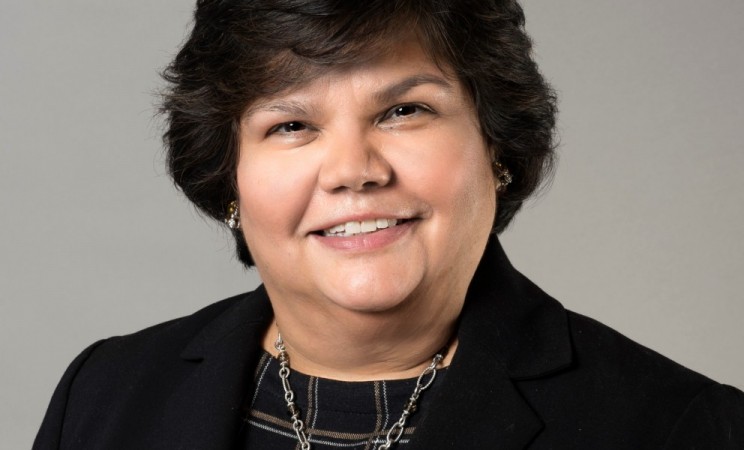 PLA turns 25 this year! In order to kick off celebrating this milestone, we sat down with PLA Executive Director Anita Santos-Singh to discuss how PLA has impacted the Philadelphia community over the past 25 years, how she views legal aid as an essential tool to create a more just world for everyone, where she sees PLA going in the future, and how supporters like you can help PLA thrive for another 25 years.
Tell us a little about the history of PLA and how it began. What units did we have and what populations did we serve 25 years ago? How has that grown and evolved to today?
PLA was intentionally created to preserve federal Legal Services Corporation (LSC) funding for Philadelphia's low-income residents and to protect other public and private legal aid resources. At the time, federal legislation was threatening to restrict the use of LSC recipient's' sources of funding. PLA was created to apply for LSC funding and maximize the use of federal resources to serve Philadelphia's low-income communities. The legislation passed about four months after we began our operations in 1996 and we have not been hindered by those restrictions in meeting our mission to serve Philadelphians with their most critical legal needs.
Initially, we had four practice areas that included unemployment compensation, family law, consumer housing, and public benefits and we operated a statewide migrant farmworker program. Early on, our focus was on representing thousands of individual clients who walked through our doors. In the years since we have added a Medical-Legal Community Partnership and a Taxpayer Support Clinic to address health and wealth disparities that exist among racial minority and low-income communities. We also operate the Save Your Home Philly Hotline, originally established at the height of the foreclosure crisis in 2008 to assist homeowners facing foreclosure, and whichthat now also serves as a conduit to assist renters with accessing pandemic rental assistance and the novel Eviction Diversion Program. Today, our work extends beyond individual client representation to include systemic advocacy, policy work, and extensive community outreach and engagement. We are a larger and more mature organization that has continued to evolve and progress in directions that result in the provision of the most impactful and highest quality legal services to those in need.
What do you wish people knew about legal aid? What makes PLA a unique legal aid organization?
PLA is a unique organization that works to alleviate the impact of poverty on several fronts, such as addressing the immediate legal needs of clients, pro-actively identifying systemic barriers and creating solutions, and working with the Courts and the legal community to address barriers to access to justice for the thousands of unrepresented individuals who we are unable to serve. I would love for more people to recognize the relevance of legal aid in their own lives and that of their communities. Legal aid contributes to building a more just society. One where everyone is able to provide for their basic human needs, live safe and healthy lives, and where justice is attainable regardless of income. Critical events like the pandemic and the mortgage foreclosure crisis made legal aid relevant for thousands who never expected to have a need for PLA's services. I want people to know that legal aid is here for you when you have nowhere else to turn to for help.
How did you come to work in the legal aid field? Did you always imagine you would run a legal aid nonprofit?
I came straight to legal aid after graduating law school and began my career at Community Legal Services as a consumer-housing attorney. It was always clear to me that I wanted to be of service to people and legal aid was the obvious choice for a legal career. I did see myself eventually stepping into a leadership role within legal services. However, the position of Executive Director is a rare opportunity and I never imagined I would have the chance to create the vision for a new organization.
What would you say is PLA's impact on the City of Philadelphia?
Over the past 25 years, we have done what we set out to do, which was to preserve millions in federal funding resources to serve Philadelphia's low-income communities. Without PLA, tens of thousands of low-income Philadelphians would have had to forgo food, shelter, housing, and income or risk family safety. Without PLA, thousands more would have been driven further into deep poverty.
What about what PLA has accomplished in the last 25 years are you most proud of?
I can point to many programmatic successes worthy of recognition over the last twenty-five years. However, our greatest accomplishment and that of which I am most proud is that PLA advocates are an innovative, collaborative, adaptable, and strategic bunch. For them, there is no challenge too great or need too insignificant. They rise to the occasion every time to serve their clients, who are their number one priority.
The past eighteen months have been illustrative of how undaunted and responsive the staff has been. During the height of the pandemic, our unemployment compensation (UC) specialists handled a 300% increase in unemployment compensation cases over the prior year. At the outset of the pandemic, our UC team launched a UC Application Assistance Hotline to help UC applicants without access to technology or who faced language barriers apply for UC. Our Save Your Home Philly Hotline paralegals, adapted quickly to assist tenants applying for pandemic related rental assistance. They are currently supporting the fourth round of assistance for tenants and are preparing for the launch of the latest round of mortgage assistance for homeowners.
What do you see for the future of PLA?
PLA will continue to be an innovative organization that is responsive to community needs. Our services and programs are driven by needs identified by clients and community groups that work with our clients. In addition to identifying community needs through a formal periodic legal needs assessment, PLA advocates spot trends through their daily interaction with clients and community groups in order to address emerging legal needs in the most impactful way. They not only use their legal expertise and legal tools, but work with technology and systems to build creative solutions.
As an early adopter of technology to serve clients more efficiently and effectively, PLA has become a leader for innovative problem solving through the use of technology. Examples range from expanding access to new clients through telephone and online intake systems to the operation of websites like www.uchelp.org to help Pennsylvanians navigate the unemployment compensation system and www.mySS8.org to help workers who have been misclassified as independent contractors complete the tax forms to challenge their misclassification and eliminate improper income taxes.
As we look to the future, we will continue to seek out solutions to unique client needs in creative ways and utilize new tools to ensure that client needs do not go unmet.
What can people do to support the work of PLA as we look toward the next 25 years?
We recognize that the pursuit of a more just society is a collective effort and we welcome all who want to support our work. We are currently working on programs to engage a wider community of supporters in our work. Please stay tuned for new options for engagement in our work coming in the new year.
In the interim, people can connect with PLA through social media to get the latest updates on changing legal information and issue-specific programming on topics such as helping victims of domestic violence keep themselves and their families safe or finding resources to save a home from foreclosure. Sharing our posts widely certainly helps to support our work. A well-informed community benefits everyone.
The wide range of legal services we provide can also be supported through charitable donations via our website.