Philadelphia Family Court Re-Opens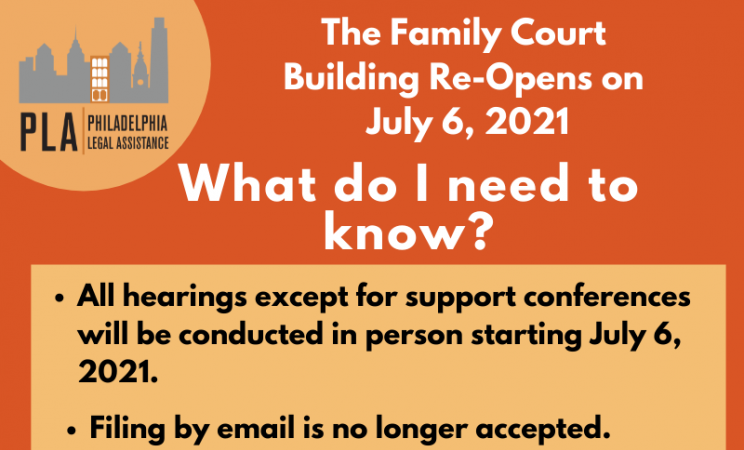 FAMILY COURT IS ENDING ITS EMERGENCY COVID-19 PROCEDURES ON JULY 6, 2021
The COVID-19 global pandemic had changed procedures for the Domestic Relations Court in Philadelphia. Starting, July 6, 2021 the Philadelphia Family Court is open to the general public and most hearings are in person. All filings must be done in person in the courthouse.
ATTENDING YOUR HEARING
From July 6, 2021, ALL court proceedings, except support conferences, will take place in person at Family Court located at 1501 Arch Street.
If you have a hearing scheduled for July 6, 2021 or later, your hearing will still be held at the same time and date, but will now be IN PERSON at the Philadelphia Family Court.
**Support conferences are the ONLY hearings that will be conducted remotely
NEED TO FILE A PLEADING?
Filing a pleading in Philadelphia's Family Court can no longer be done remotely. All filings must be done in person at 1501 Arch Street. Protection from Abuse Orders may be filed on the third floor from 8:00 AM to 4:00 PM.
Please try to arrive at the Filing Unit as early as possible to be sure that your case will be heard and that you can receive your Temporary Order on the same day.
The filing unit may stop accepting filers as early as noon to be sure the process can be completed by the close of business.
Sheriffs will continue to serve Temporary Orders issued at Family Court.
Emergency Filing
If you need a Protection From Abuse order when the Filing Unit is closed, please go to the Criminal Justice Center located at 1301 Filbert Street. Sheriffs will not serve these Emergency Orders. The Emergency filing site is only open for emergencies on nights (5pm – 8am), weekends and holidays.
All non-PFA filings including emergency custody petitions, other custody petitions, support, and divorce need to be filed IN PERSON at the Clerk of Courts at Philadelphia Family Court, 11th Floor.
BRINGING CHILDREN TO COURT
Unless ordered by a judge or hearing officer, your children will not be required to attend custody hearings. If you want your children to speak to the judge, ask for permission to bring your children into Court as witnesses.
Please note that the children's waiting room will remain closed and supervised visitation will remain suspended until further notice.