Social Worker Appreciation Month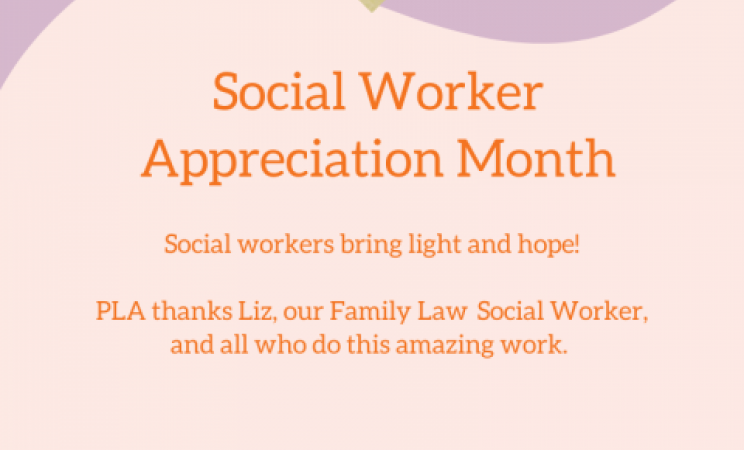 When folks come to legal aid organizations such as Philadelphia Legal Assistance they are often experiencing several legal needs, including anything from experiencing violence at home, to lacking money for groceries, to facing a mortgage foreclosure. In 2017, a national report found that 1 in 4 low-income households has experienced 6+ civil legal problems in the past year, including 67% of households with survivors of domestic violence or sexual assault. These struggles compound on each other, and create huge burdens on families as they navigate the legal system. Receiving free legal services makes a huge difference for these families, yet often they experience additional struggles that fall outside of scope of the law.
That's where social workers come in.
Although legal aid attorneys have long been working to address the barriers that prevent their clients from fully participating in the legal process, integrating social workers into legal services gives clients access to a professional with specialized knowledge of the host of resources addressing needs beyond the legal realm. PLA welcomed Elizabeth Delus, with a MSW from Temple University, in late 2019 and has already seen the difference her work makes. Elizabeth is building the foundation of how a social worker should integrate into legal services, one amplifying the impact of the other. She designed a screening tool for clients to complete so she can learn their individual needs and work with the legal team to provide referrals. The referral form asks if clients have an interest in services such as mental health, victims rights, GED programs, counseling, drug and alcohol programs amongst other options.
Elizabeth has connected clients to resources such as emergency diapers and formula, funds for rent, individual therapy for both adults and children, completing the Victims Compensation Assistance application, and tools to find employment. Any client of the Family Law Unit at PLA can now access and benefit from the resources gained by having a social worker on staff, and Elizabeth has provided survivors of domestic and sexual violence extra support such as information about their right to victim compensation.
It is important to continue the connection between legal services and social services so that attorneys, social workers and paralegals have the ability to serve clients holistically. If there's a social worker in your life, remember to thank them for the critical work they do!
Elizabeth has experience working with incarcerated people who were wrongly convicted, students in low income neighborhoods, and the drug and alcohol recovering community. She brings all of the knowledge and resources learned from these communities to her work at PLA. When asked why she went into the social work field, Elizabeth said "having the opportunity to shed light and hope into the clients here at PLA makes being a social worker worth it."