HUD's Proposal to Evict 55,000 Children will Hurt Philadelphia's Immigrants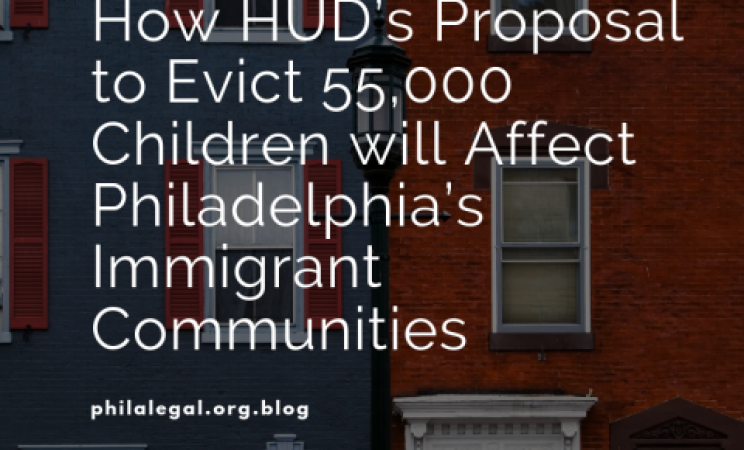 What is at stake? America is in an affordable housing crisis. Housing costs have increased rapidly in recent years - the national median rent has risen 20 percent faster than the overall inflation from 1990-2016, and home mortgage prices 41 percent faster. At the same time, incomes of the lower and middle classes have barely increased. With housing prices on the rise, income near stagnant, and a shortage of subsidized housing, finding affordable housing is a challenge for many families, leading to heavy cost burdens for renters and putting homeownership out of reach for too many.
The crisis is felt deeply in cities like Philadelphia, where 400,000 residents live on or below the federal poverty line- meaning an annual income of $25,750 for a family of four. Families living with low-income may be able to find subsidized housing where their rent is based on their income, but it can be challenging to navigate the system and wait times are extensive. At the MLCP our advocates see how these challenges compound for immigrants, who may not be familiar with the kind of government supports available to them or face discrimination when trying to access supports, sometimes resulting in help seeming impossible. 
What is HUD's proposed rule? On May 10, 2019, HUD proposed a policy change that will affect nearly nine million U.S citizens, 120,000 elderly immigrants, and 55,000 children. The proposed rule requires changes to the verification process to access federal housing assistance.
The proposed rule requires that every immigrant receiving housing assistance verify his or her immigration status. Those under the age of 62 would have to verify their status through the Systematic Alien Verification for Entitlements Program (SAVE). Immigrants over the age of 62 will also have new eligibility verification requirements. They may face eviction if they are unable to find or access their verification documents. 
For mixed-status families, or a household where some family members are eligible for government assistance and others are not, this policy change may force separation. Currently, mixed-status families can live in subsidized housing, and the subsidy is pro-rated to cover  only U.S citizens and immigrants with eligible immigration status.  Ineligible noncitizens includes immigrants who may be legally present in the United States, but do not have a specified status that qualifies them for financial assistance from the government. This rule change will require all non-eligible household members to separate from their families or face eviction of the whole family - which having on one's record makes it harder to find new housing. 
Under current law, families regardless of immigration status can live together indefinitely in public housing and Section 8 housing, paying a prorated rent, and there is no requirement for verification of the immigration status of family members not receiving subsidies. HUD considers ineligible family members income when calculating rent payments, but those members do not get financial assistance from HUD. Families must pay for those ineligible members' portion of the rent out of pocket.
Why is this rule significant? This rule has the potential to tear families apart and evict tens of thousands of families
1. This rule will result in families choosing between being torn apart or evicted.  Access to safe and affordable housing is a basic human right. By making this change, after approximately 18 months of the rule going into effect, mixed-status families will either have to split up, face formal eviction proceedings, risk homelessness and/or leave their homes in the search for other nearly non-existent affordable housing together. In the agency's own research, HUD found that over 55,000 children will be evicted from their housing if this rule is implemented.
What could this mean for Philly? In Pennsylvania, more than 7,000 people would be subjected to the new stringent verification requirements if the rule is implemented. That includes 2,430 people over the age of 62, who will likely struggle to comply with the new verification requirements. Of the households affected, the majority will be required to submit to new stringent verification requirements to avoid eviction. Nearly 100 Pennsylvania families who have an ineligible noncitizen in their household will have 180 days to decide whether to find other housing for their ineligible noncitizen residents or to face eviction.
​​2. This rule will reduce the quantity and quality of subsidized housing. HUD's analysis indicates that this rule will cost between $193 million and $203 million more per year. HUD itself has admitted that it is unlikely that the federal government will allocate more money to cover this increased expense. Instead, HUD will have to sacrifice the quantity and quality of other affordable housing programs to cover this expense. The result will be less housing vouchers and lower quality public housing.
What could this mean for Philly?  There are already 42,900 families currently on the Philadelphia Housing Authority's waiting list.  The underfunding of subsidized housing is a driving factor in the Philadelphia housing crisis, and this city simply cannot afford the limited resources presently allocated to housing vouchers and subsidized housing to be further cut so that this rule can be implemented.
3. This rule sows fear within the immigrant community and targets an already marginalized population. Even before implementation, policies like these have a chilling effect on both documented and undocumented immigrants. In 2018, the Department of Homeland Security issued a proposed rule that threatened to expand the definition of when an immigrant is "likely to be a public charge", which, if implemented, would make certain immigrants inadmissible if they relied upon certain public benefits. This rule has not yet been implemented, but it has already generated fear and confusion with immigrant families have expressed widespread concern about whether they should enroll their children in basic needs program, and some immigrant adults have opted out of basic needs programs due to green card concerns. This rule is likely to have similar effects.
What could this mean for Philly? Roughly 15% of Philadelphians are immigrants. The city government has taken steps to make this city a safe home for immigrants where immigrants feel comfortable participating in all aspects of city life. The City's Sanctuary City policy and the recent implementation of municipal IDs are just two examples of the City's commitment to bringing immigrants out of the shadows and into public life. The city government's efforts could easily be curtailed, however, by mass fear and confusion stemming from this new rule.  Confusion and fear about potential enforcement actions have previously prompted immigrant families to keep young children from attending Philadelphia public schools, and, even if this rule is never implemented, a similarly chilling effect in public housing could result in immigrant families avoiding the subsidized housing they need. 
So, what do we do if the rule is implemented? The public comment period for this proposed rule ended on July 9, 2019.  Before the rule can be implemented, HUD must read all public comments submitted, and draft and publish responses to those comments. An agency is required to make policy decisions based on the facts on the record, so HUD may change or abandon the rule in response to public comments. If this policy is implemented as is, urban health systems, public and nonprofit, will be the frontline for providing assistance to those affected by the rule. Medical-legal partnerships (see here, here, and here) that work to resolve patients' housing, immigration, and other social needs are a key resource for health systems caring for immigrant and other families experiencing housing insecurity. Strategies can be implemented to mitigate the chilling effects of policies such as these.