PLA holds first "Community Conversations" Town Hall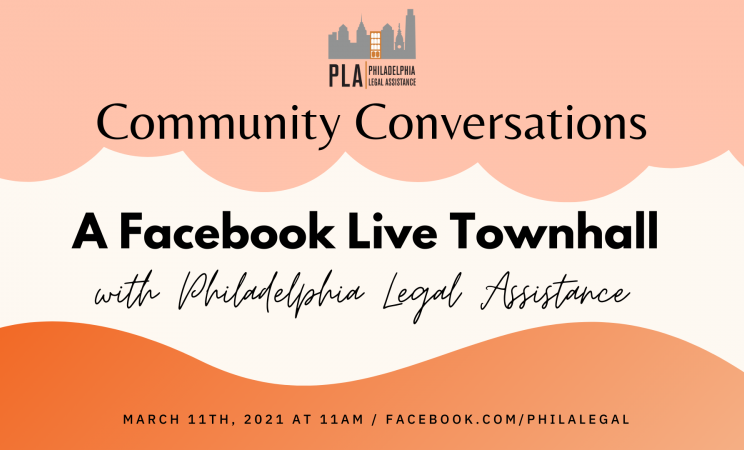 On March 11, 2021, Philadelphia Legal Assistance hosted our first installment of "Community Conversations" on Facebook Live. Community Conversations is a monthly town hall where community members can tune in and hear the most important updates of the month from PLA's advocates and other local leaders.
This month, the speakers were Shalisa Brunson (Housing Unit), Julia Simon-Mishel (Unemployment Compensation), and Omeed Firouzi (Taxpayer Support Clinic). They spoke about important updates in their practice areas including mortgage assistance, the eviction diversion program, unemployment benefit programs and extensions, stimulus checks, and more.
The speakers for next month have not been announced yet, but the event will be held on Facebook Live on April 8, 2021 at 11am.
Julia and Omeed will also be going live on Facebook on March 16, 2021 at 11am to discuss the new COVID-19 Stimulus Package (the American Rescue Plan) and what it means for Pennsylvanians.
If you tuned into this month's town hall and are looking for some of the resources mentioned, please see below:
Unemployment, Taxes, and the COVID-19 Stimulus Package
Free Tax Preparation with Campaign for Working Families
More Information from PLA on the Recovery Rebate Credit
PLA's FAQ on Stimulus Money and Taxes
Information of 1099G Tax Forms for Unemployment in PA
FAQ on Stimulus, Unemployment, and Tax Rebates from the New York Times
Expert Q&A about the Unemployment Provisions of the American Rescue Plan from the Century Foundation
How the Bill Passed By Congress on March 11th Affects PUA from PLA
How the Bill Passed By Congress on March 11th Affects Pennsylvania UC from PLA
The American Rescue Plan: How the New Stimulus Bill Affects UC in PA (a video explainer from PLA)
Pennsylvania Unemployment Compensation: What to Do When Your Claim Year Ends (a video explainer from PLA)
Important COVID Relief Update: Stimulus Check FAQ from PLA
Housing
The Save Your Home Philly Hotline
How to Get Help With Your Mortgage during COVID-19
COVID-19 Emergency Rental Assistance Program
Additional Resources
Town Hall presentation and agenda
How to Find Your Local Legal Aid Provider