Save Your Home Philly Hotline
Save Your Home Philly Hotline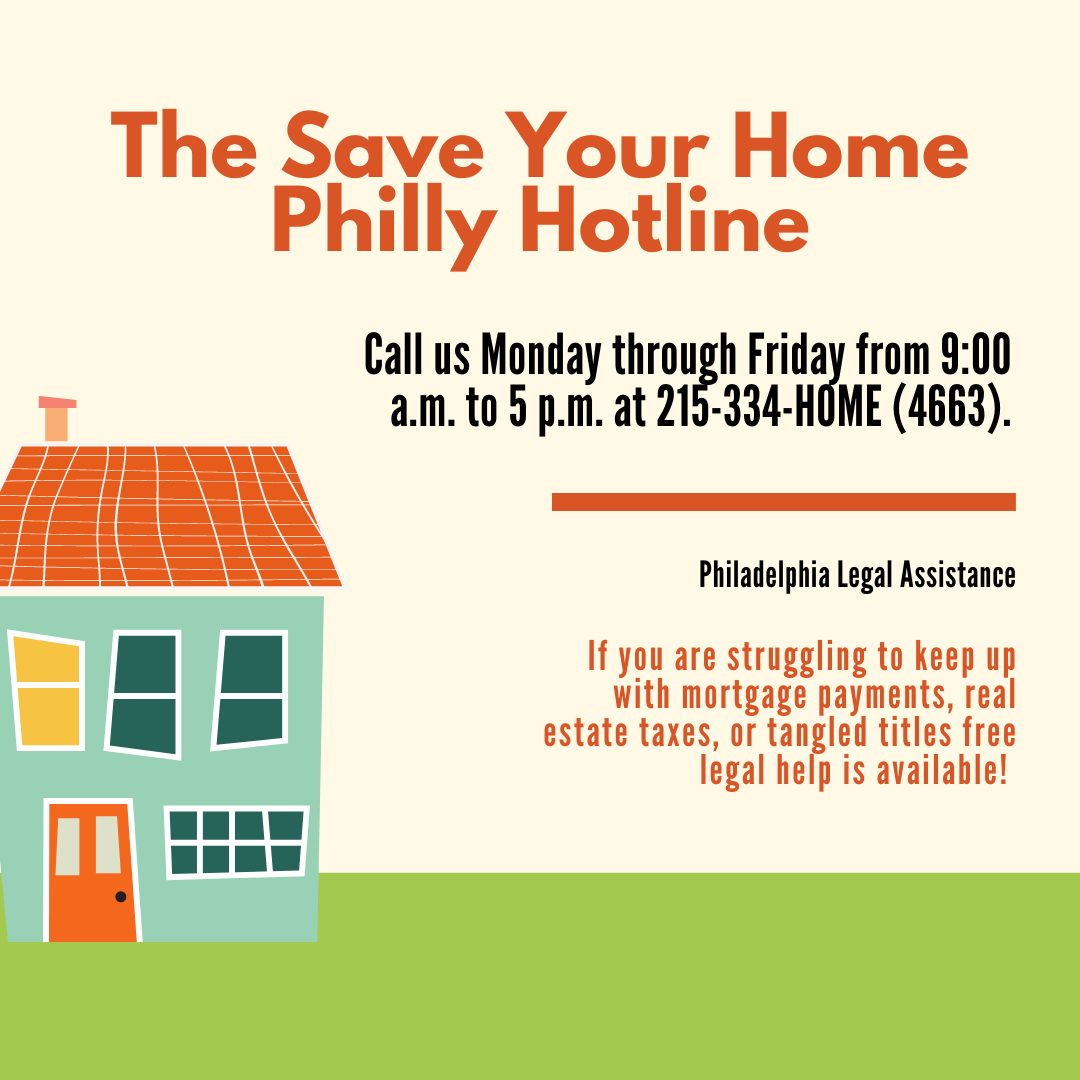 The Save Your Home Philly Hotline helps any Philadelphia homeowner at risk of losing their home to mortgage or tax foreclosure. The Hotline provides advice, brief service, and connects thousands of  callers to housing counselors each year. 
We work closely with the City of Philadelphia's Foreclosure Prevention Program and the Mortgage Foreclosure Diversion Program of the Court of Common Pleas of Philadelphia.
If you are at any stage of the mortgage or tax foreclosure process or have fallen behind on your mortgage payments or your property taxes, you should call the hotline for help with understanding what steps you can take to save your home. You will be able to speak with trained paralegals who can answer your questions and make an appointment for you with city funded housing counseling agencies.  
They can:
Review information about your property and any mortgages, as well as your contact information and financial information; 
Help you make a budget;
Work with your mortgage lender to apply for a loan modification or other workout agreement, and;
Walk you through any legal processes relevant to saving your home;
Help you make an informed decision about what course of action is best for your situation.
In some cases, your case may be reviewed for possible legal representation from PLA's Consumer Housing Unit, or from one of our partner agencies.
Intake Process
Save Your Home Philly Hotline
Monday through Friday from 9:00 a.m. to 5 p.m. at 215-334-HOME (4663).
Apply Online
Apply online for an issue, anytime by filling out our online application. Click the button below to take you to our application site. Note: this will open in another tab in your browser.
Related Self-Help Material