Farmworkers During the COVID-19 Pandemic: How Our Lifeblood is at Risk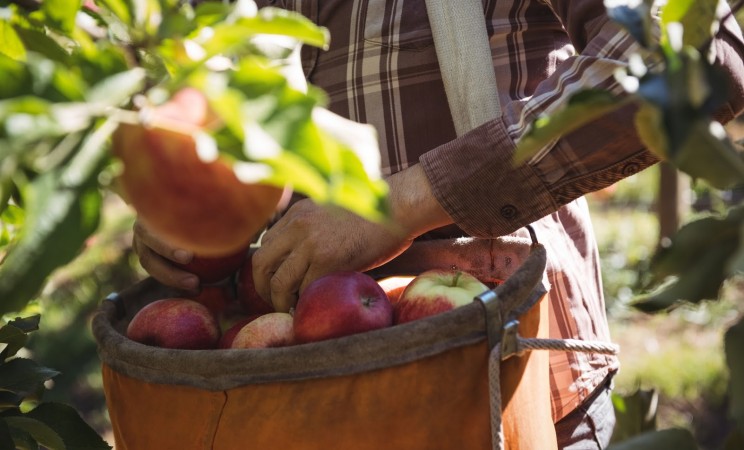 COVID-19 is upending our economic system.  Businesses are shuttering, layoffs are leaving workers without income, and those who can are working from home. Meanwhile, jobs that are often labelled "unskilled," like bagging groceries, mopping floors, and collecting garbage, are now seen for what they truly are: essential to our collective well-being.  Workers in these arduous, low-wage roles are now at risk for contracting the life-threatening virus.  Media sources have rushed to highlight the important stories that are on the front lines of the crisis, like the Inquirer's series documenting workplace realities.
But this conversation around labor repeatedly erases one community: farmworkers.  Agricultural work is life-sustaining and frontline in this pandemic, but is one of the most dangerous and poorly protected occupations in the U.S.  Here at the Pennsylvania Farmworker Project, we know that three already-existing atrocities of the agricultural industry — labor conditions, housing, and lack of healthcare — will only amplify the effects of coronavirus for farmworkers, most of whom are immigrants. And in a time when feeding our communities is as important as ever, this illuminates the true injustice of our food system.
It's easy to forget that the apple you put in your cart at the grocery store represents a human relationship.  In order for food to arrive on the shelves, someone first has to pluck each fruit from its tree by hand. Farmworkers are the life force of Pennsylvania's $7.9 billion agricultural industry, which produces everything from milk to peaches to mushrooms. There are an estimated 70,000 foreign-born people working on farms across the state each year.  In the field, the days are long and the labor strenuous. Folks will sometimes be out for 12 hours, preparing soil, picking crops, tending to livestock, and packing food for shipment. 
Labor Conditions
Despite carrying out this grueling and life-giving work, most Pennsylvania farmworkers are exempt from overtime and the right to unionize, and, like many workers, they experience the hardship of having no overarching right to paid leave.  States with strong, longstanding farmworker rights movements, like California, have expanded workplace protections for farmworkers, but in Pennsylvania, many are seeing their first ever opportunity for paid sick leave and childcare leave. On March 19th, 2020 Congress passed the Families First Coronavirus Response Act (FFCRA), which, as of April 2, provides for up to 80 hours of paid sick leave for many workers and up to twelve weeks of paid childcare leave for many families with children whose schools have closed.  
Though this is a clear expansion of benefits, it is still unclear whether farmworker families will be able to make ends meet while taking paid leave. Though a worker will receive full pay during leave if they themselves are sick, under the FFCRA, leave is calculated as two-thirds of weekly pay if they are taking the leave to care for a family member.  With schools shut down and elders at risk, this potential pay cut for workers who also are responsible for relatives could put many in tenuous financial situations. The already meager average hourly wage of $13.34 or less1 paired with no right to overtime premiums means Pennsylvania farmworkers are likely to be hit even harder by the economic and physical effects of the pandemic. 
Even if workers do fear sickness, poor pay and lack of benefits makes staying home an unrealistic option.  Undocumented workers face even greater pressure to continue showing up to work and not to complain about health and safety conditions, as their employer could fire them and report them to ICE in retaliation. However, different pressures exist even when workers do have papers.  About one thousand immigrant farmworkers in Pennsylvania work under the H-2A Visa program, through which employers offer temporary labor contracts to seasonal workers. This creates a precarious power dynamic in which one person has control of a worker's housing, paycheck, and immigration status3. Furthermore, due to a lack of basic workplace protections, they are ineligible for Unemployment Compensation should they lose work or quit out of fear for their health. 
Should farmworkers choose not to take leave, there is much that might inspire fear on the worksite: the CDC recommends frequent hand-washing with soap and water, but federal and state laws require only one hand washing station per 20 people.  Social distancing mandates a six-foot radius between individuals, but the space inside of a mushroom 'double' — the name for the dark, damp warehouses where mushroom pickers crouch next to each other from 4 A.M. to 4 P.M. or longer — makes that nearly impossible.  
Advocating for themselves amidst the devastation of pandemic is a challenge, given that the majority of farmworkers speak Spanish or Indigenous languages, and their employers lack the skills to communicate2.  This language barrier only exacerbates already extremely hazardous work.  And should these workers seek to organize to demand more just conditions during this crisis, most agricultural employers could reduce their wages, change their hours, or fire them in retaliation with no repercussions, since most farmworkers are exempted from the legal protections that usually apply when workers take collective action.
Housing
Aside from the fields, farmworker housing presents its own health risk. Most workers live in crowded houses, with bathrooms shared between many people and beds close together if not literally on top of each other.  In this context, which is at odds with CDC recommendations, illness spreads swiftly.  Many workers live on their employer's property, which makes addressing conditions an intimidating prospect.  The ability to raise health and safety concerns without fear of retaliation, especially one as simple as a safe place to sleep, is critical to prevention efforts. 
Healthcare
Much of the threats farmworkers face center around risk of exposure, but should workers get sick, options are limited as well.  In addition to the typical lack of paid leave, many farmworkers have no health insurance while living in a country with the highest cost of medical care of any comparable economy. Though they can receive workers' compensation if injured on the job, preventative care is inaccessible. Immigrant workers often fear going to a community health center, or any public place for that matter, because of the possibility of arrest and deportation. This concern is now heightened by the high risk of infection in detention facilities.  
The coronavirus pandemic only increases the risks that farmworkers face, and, even after the passage of the FFCRA, there is little relief available to them.  If agricultural employers continue with their standard business practices, the current level of safety precautions could prove disastrous.  For Pennsylvania's nearly 70,000 farm workers, enforcement of workplace regulations and access to information is more than an issue of justice, it is life or death.   
Let us praise farmworkers the way we do nurses and doctors.  Let us celebrate their work and their dignity. Let us remember the risks they are taking each time we sit down to eat.
These high stakes make legal services for workers more important than ever.  We at the Pennsylvania Farmworker Project are committed to doing our part to help keep Pennsylvania's farmworker community safe and well-resourced in such catastrophic and uncertain times. If you would like to support this work please consider donating directly to Philadelphia Legal Assistance.
There are many organizations run by and for farmworkers that work tirelessly throughout the country.  Check out the incredible work of just a few: 
• CATA - The Farmworkers' Support Committee
• The Coalition of Immokalee Workers
1.  $13.34 is the "Adverse Effect Wage Rate" for Pennsylvania in 2020. The Adverse Effect Wage Rate is the H-2A program's weighted average hourly wage rate for farmworkers. The U.S. Department of Labor calculates the AEWR every year to act as a minimum wage for H-2A workers in order to prevent the depression of wages in the agricultural industry.
2. Trish Hernandez, Susan Gabbard, and Daniel Carroll, "Findings from the National Agricultural Workers Survey (NAWS) 2013-2014: A Demographic Employment Profile of United States Farmworkers", United States Department of Labor Research Report no. 12 (December 2016): 12-13.
3. When an employer fires an H-2A worker, the worker's visa expires. Because the worker failed to complete their work contract, the employer has no legal obligation to pay for the expensive international travel back to the worker's home country. Because of the visa expiration, the worker has no legal right to work in the U.S. anymore and is required to leave the country within 30 days, regardless of their ability to pay for the trip home.